When execution looks easy and operations flow smoothly, it's never a case of just luck or things falling into place. It's reinforced management that drives a synergy that can identify weak spots before they take a toll.
Your mine can't afford for its fleet to not operate at optimal levels, and often, the biggest cause of a delay is the weakest link in the operation. At AVA, we believe in Thomas Reid's motto of "You're only as strong as your weakest link"; this drives our passion for efficiency and being able to identify blind spots that have an impact on your bottom line.
With the goal of running the most efficient mining operation possible, some tasks often run unchecked and unoptimized, and these can have a ripple effect on the overall productivity of your operation. With even the smallest link in the chain having the potential to disrupt the productivity of your flow, it's worthwhile investing in a solution that ensures you have eyes and ears on every aspect of your mine, including your auxiliary fleet.
For example, one of the most common holdups is delayed fuelling of your trucks. A task that if left unchecked and untracked, can cause major production and operational holdups. If dozers are not operating at their optimal efficiency it leads to a knock-on effect on the primary fleet. Causing delays in loading and dumping as dumps are not graded correctly.
High-quality roads in your operation ensure not only safety on your site but also the benefit of saving fuel and increasing the lifespan of the vehicles and their tires. We keep tabs on the activity of the grader resulting in improved quality of the road.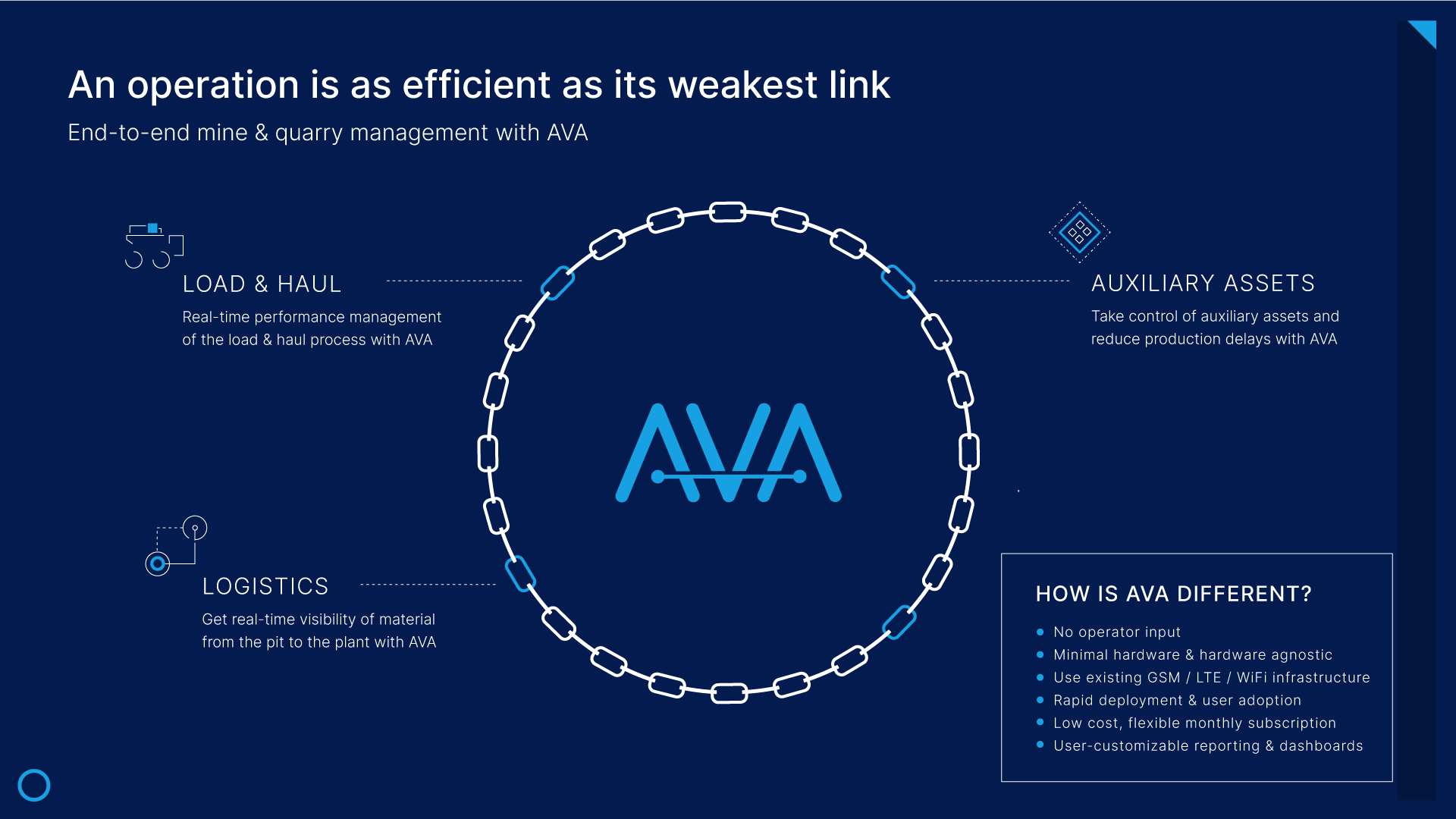 How AVA can help
We offer real-time dashboards with 99.9% uptime and configurable reports that can provide you and any stakeholder simultaneously with a live view of your operation. From top (load and haul) to bottom (auxiliary fleet); imagine replaying past events, being able to see the idling duration of certain vehicles as well as their fuel usage. Lucky for you, we've created it, therefore the only imagination you need is how and where to expand your business.
"With instant notifications of vehicle activities and replay functionality, AVA has enabled us to be more proactive, save costs, and focus our efforts on the right things." – Alex Munro, BB Transport.
Making decisions without reliable and relevant data is like digging in the dark.
With our data-driven approach to mine management, we provide specialized solutions to operations, enabling them to better control and manage their mine, material assets, and people. AVA takes the complexity out of real-time data processing, providing stakeholders with a cloud-based platform that is intuitive, interactive, and accessible from any device.
Making use of automation and machine learning, we provide regular intelligence into areas of improvement and efficiency.
Request a demo today to see how we can help you take control of your auxiliary assets and ultimately optimise your load and haul operations.