Improving user experience for all stakeholders
At the start of every year, many top research houses release their predictions for the upcoming year. We have done our homework, so you don't have to. We have selected what we believe is one of the most accurate for mining as well as for AVA in 2022, translating a few of these trends into tangible outcomes for all our stakeholders.
The candidates (our homework list):
Like most years there is a large amount of overlap between the reports. However, we believe the Gartner report to be the most accurate, concise, and the one best applied to AVA and our goals for 2022.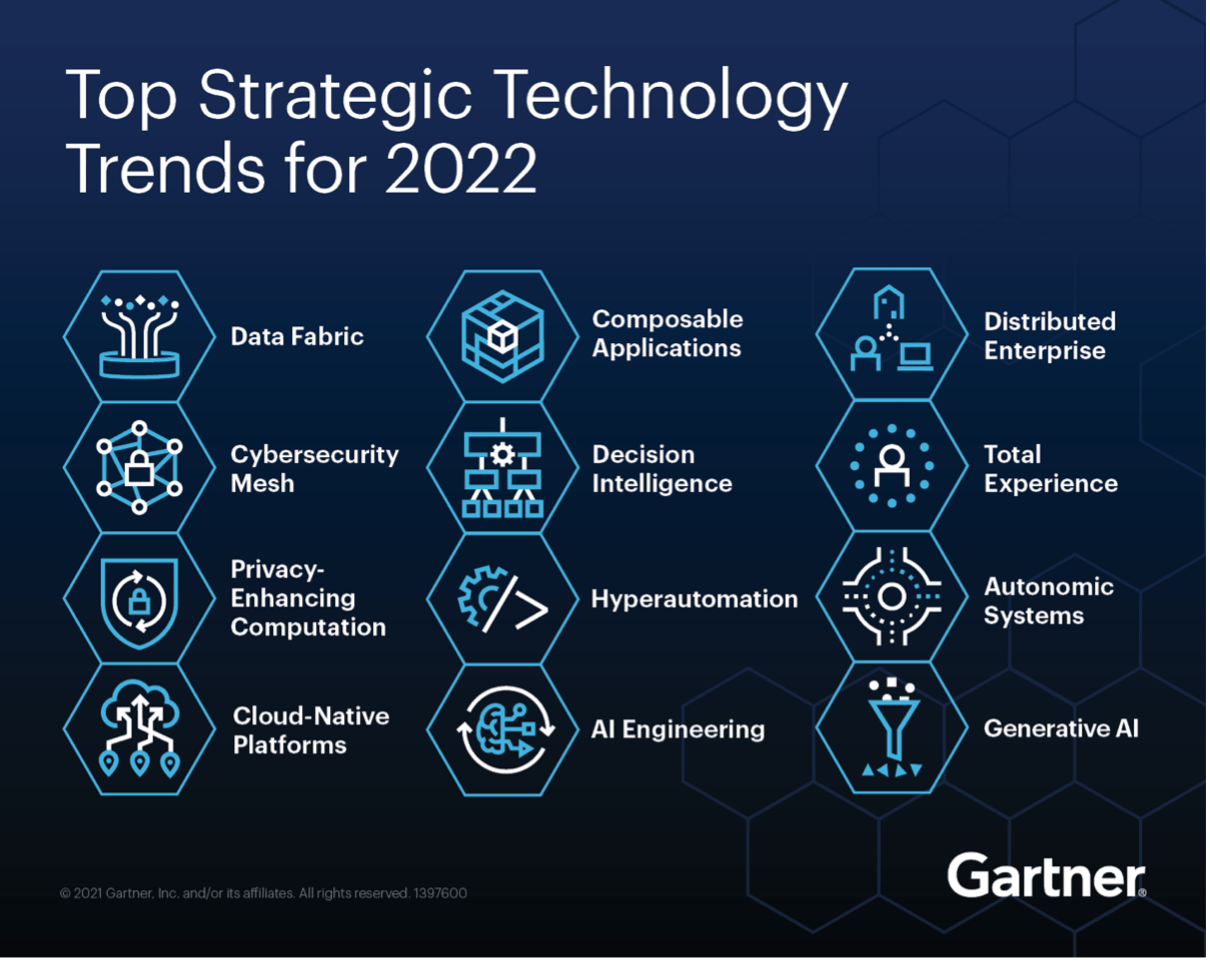 Source: Gartner Top Strategic Technology Trends for 2022
Gartner's report covers 12 strategic trends or concepts that they believe ambitious businesses and CEOs would aim to implement to deliver growth, digitalization, and efficiency.
Trend #1: Data Fabric
As companies acquire more data it becomes difficult to ensure this data is accessible, editable, and can be available whenever required. Data fabric speaks to improved management of data through analytics and learning, aimed at reducing data management efforts driving down costs, and improving efficiencies.
Trend #2: Cybersecurity Mesh
Data security will almost be a trend every year as it becomes increasingly important for all. Cybersecurity mesh speaks to meshing the best-of-breed, stand-alone security solutions to improve overall security.
Trend #3: Privacy-Enhancing Computation
With the increasing amount of data processes across environments, it is important that compliance standards are always met. Privacy-enhancing computation secures enhanced security when processing personal data in various environments.
Trend #4: Cloud-Native Platforms
The digital world is moving at an unprecedented rate and will continue. Cloud-Native Platforms are technologies that enable teams to build resilient, elastic, and agile applications with adhering to best practices.
Trend #5: Composable Applications
Duplication of code is an issue facing many companies, increasing development times. Composable Applications make it easier to use and reuse code, decreasing the time to release new features.
Trend #6: Decision Intelligence
Decision intelligence is a practical approach for improving decision-making. Creating models for each decision and presenting them as a set of processes, using machine learning and intelligence to inform, learn, and refine decisions.
Trend #7: Hyperautomation
Automation is always imperative, but now organizations are developing specialized teams with a single focus on automation. Enabling scalability, efficiency, productivity, and laying the foundation for disruption.
Trend #8: AI Engineering
AI engineering is the next step in AI for companies implementing AI. Combined with a strong AI governance AI engineering is able to automate updates to data, and model applications to streamline delivery
Trend #9: Distributed Enterprises
As covid has drastically increased remote working companies have been forced to adapt. Distributed Enterprises reflect a remote-first business, improving employee experiences, digital consumer and partner touchpoints, and building out product experiences.
Trend #10: Total Experience
Total experiences speak to a business strategy that prioritizes all stakeholders' experiences. Driving greater customer and employee confidence, satisfaction, loyalty, and advocacy through improved brand experiences.
Trend #11: Autonomic Systems
Autonomic systems are one step below AI. In most cases, AI is not required but rather systems that are self-managed that learn from their environments and modify their algorithms in real-time to optimize.
Trend #12: Generative AI
Generative AI is pushing boundaries when it comes to creativity within AI. Speaking to the creation of innovative new ideas through learning from data. Accelerating innovation in fields ranging from medicine to product creation.
The key trend for AVA: Total Experience
When asking our CTO Craig Harris what he believes is the trend most applicable to AVA, he responded: "2022 is the year for Total Experience for AVA. Improving our product usability not only for the user, but for our staff, for our client success agents, and for anyone that engages with AVA. We really want to provide the best experience to everyone when compared to our category."
Experience for our users
This year we aim to double down on our improving our user experience through user feedback and analytics on our platform. Providing users with the most intuitive platform enables them to make data-informed decisions within every shift. Across a range of devices.
Experience for our clients
From our initial contact to onboarding, and client success we are focusing on improving our clients' experience to provide a consistently positive experience. Positioning ourselves as the gold standard of what a partner for digitization looks like.
Experience for our staff
There are people behind every software, and we know that happy people make great products. We have always and will continue to prioritize employee wellbeing and knowledge sharing across our business through improved communication and processes.
Experience for our partners
AVA has many partners, and we want to ensure that working with AVA is easy. As the simpler the relationship the easier it is for us all to deliver value to our clients with consistent support and communication.